Details

Category: Tlacoa - Musical Group
History: Tlacoa began in the during the Popular Mexican Music guitar classes, part of the classes offered by the University Extension of the Autonomous University of Baja California in 1993. Originally, in 1990, it was called Guyacán and had twelve members. After various adjustments it ended up with from six to nine members who participated in the university Mexican Folklore Music Workshop and then in 1997 separated from the university. From its beginnings the Anisa Foundation has supported Tlacoa as part of its artistic education area and they have worked together to this date.
Objectives: The main objective of Tlacoa has been to rescue Mexico´s musical roots and to offer them especially to the communities which have been in danger of losing their musical history, preferably working with and for the youth. Another objective has been to teach this class of music to those who wish join the group so that this is an on-going activity.
Tlacoa plays Mexican folkloric music and has a repertoire of more than thirty songs which include sones from different regions of the country, indigenous music, hupangos, urbana y romantic music as well as other types.
The group has played in different international locations such as California, Arizona and Texas in the U.S., in different states of the Mexican Republic – Oaxaca, el Distrito Federal, Yucatán, Baja California and at the International Book Fair in La Habana, Cuba. See here.

They always collaborate with different organizations in community development projects, especially in urban and suburban areas, in schools, conferences and activities of the Anisa Foundation and the Bahá´í community.
Tlacoa offers: Musical folkloric presentations in anyplace of the world without non-profit basis. It offers to support minority groups who support peace; human values and the equality of rights and privileges for women and men.
Needs: Tlacoa still needs various musical instruments: vihuela, a guitar, a bass, five guitar stands, music teachers to help increase the music quality.
Plans: To continue learning more music; travel to other places to present the group's musical arrangements; better the arrangements themselves; make a compact disk and before anything else, continue supporting the communities and organizations which need their help.
Contacts:
This email address is being protected from spambots. You need JavaScript enabled to view it. This email address is being protected from spambots. You need JavaScript enabled to view it. This email address is being protected from spambots. You need JavaScript enabled to view it. This email address is being protected from spambots. You need JavaScript enabled to view it. This email address is being protected from spambots. You need JavaScript enabled to view it.This email address is being protected from spambots. You need JavaScript enabled to view it.
Photos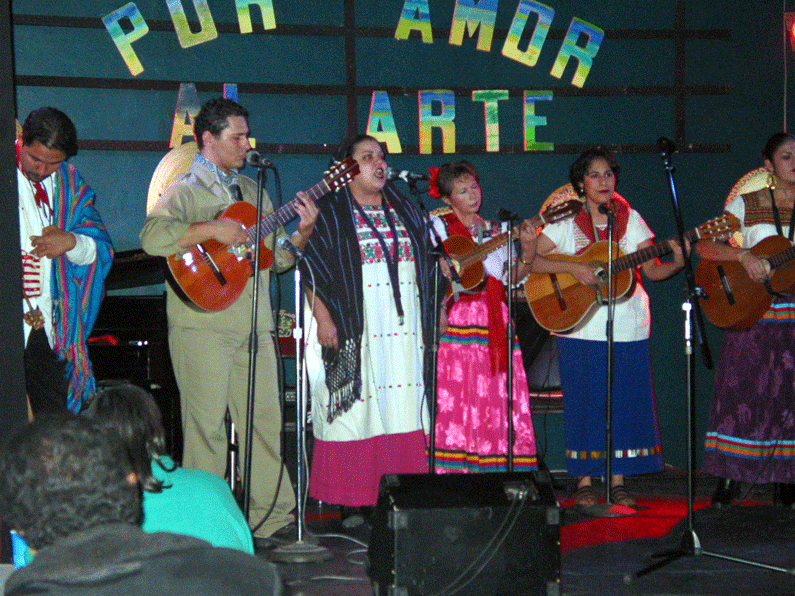 Presentation Day of the Dead, Café Literario, Mexicali, Title of Presentation: Death and Revolution.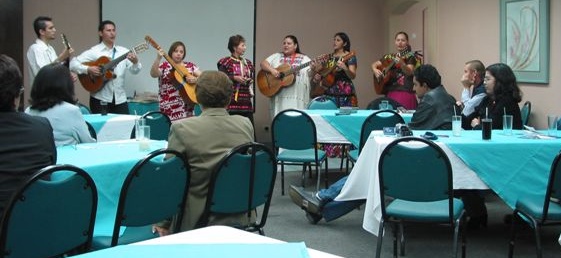 Presentation during Meeting of Continental Board of Counsellors, Mexicali, January, 2003.